Official channels
Avanzada 7, leading VoIP products distribution in Europe, represents Asterisk, Issabel
Being a member of an official distribution channel means you have the guarantee of that compatibility, have a direct line through Avanzada 7 to manufacturer's R
Avanzada 7 channel

Regional partners
Lead forwarding
5 monthly free support hours
Direct visibility in Avanzada 7 website
Joint training actions

Reseller
Joint marketing actions
Monthly free support hours
Purchase credit (upon approval of our insurance company)
Demo equipments
Rental options
Guaranteed availability service for RMA critical devices

Standard partner
Product inmediate availability
Pre- and post- sale specialised support
Level 2 consultancy and support
Training
Renting option for big projects
White brand logistics for delivery to end customers
Lead forwarding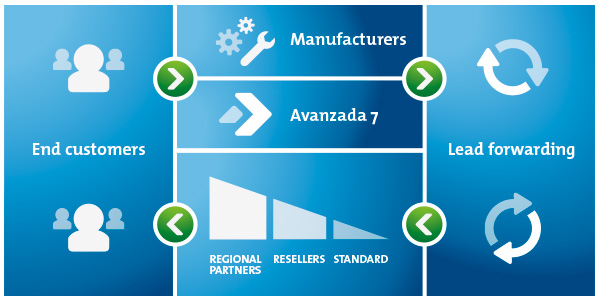 Opportunities for the channel.
Avanzada 7 works only with professionals in the telephony and communications channels. Any end customer contacting manufacturers or us, is immediately forwarded to the nearest or most qualified partner
Opportunities are forwarded to Avanzada 7 area partners, which are those resellers who complete a certification in any of our represented platforms.